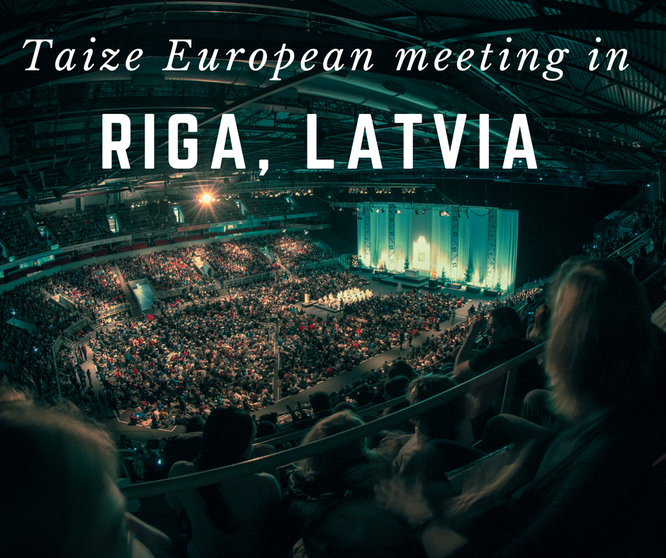 When I was a university student, every New Year I used to participate in something called Pilgrimage of Trust through Earth. It is an ecumenic Christian meeting for Youth from all over Europe (and the World). It is organised by the community of brothers from Taize, France. Every year it takes place in a different European city. 
I went first time when I was only 17 years old and the meeting took place in Paris then. After that, for 6 consecutive years, I participated in those meetings in Hamburg (Germany), Lisbon (Portugal), Milan (Italy), Zagreb (Croatia) and in Geneva (Switzerland). Every year, after 4 days of praying, laughing, crying and meeting amazing people I felt uplifted and enlightened, ready for whatever the New Year was going to throw at me. Then I became a cruise ship photographer and moved abroad, which I guess made it more difficult to participate. I also went a couple of times to the village of Taize in the summer, including an epic hitchhiking trip with my Mum (yes, my Mum!) in 2010.
After a difficult 2016, when moving back to London proved to be the beginning of an end of my 5-year long relationship, when money was rather at scarce and work was not always available, I decided I needed some spirituality. I already became closer to God again through the previous months, I prayed and meditated more frequently. However, led by the experience of the Taize meetings from my Youth, I decided that was exactly what I needed. 
I found out that the Pilgrimage of Trust through Earth in 2016 was going to take place in Riga, Latvia. I emailed the organisers and managed to sign up to go with a group from my home town. Since I was visiting home for Christmas, travelling from there made more sense. 
We arrived in Riga on the 28th December 2016. I signed myself up to be part of the volunteering group, which meant I had to do some kind of "work" for 1 or 2 hours a day, helping with organising and/ or logistics of that meeting. There were 2 more people from my bus that volunteered themselves as well - and so we were put together as a mini team. I did not know Dorota and Roman before boarding the coach in Poland but we got along pretty well. Our lives couldn't have been different from one another but we understood and respected each other's needs. We were assigned to meal cleaning team, which meant we were due to collect rubbish during meals. Thanks to the volunteering we were assigned to a local Baptist parish not too far away from the city centre. Some people had to travel 40km into the city of Riga every day, so we really were lucky.
We also ended up together with 1 hosting family. Initially we were offered a flat to ourselves but the whole point for me was to stay with a local family and get to know their culture and lifestyle. So we kindly rejected the first offer and were put with a young married couple - Raitis and Elina. We basically stayed on a floor of their living room but they gave us sleeping mats and blankets so it felt quite comfortable. Some participants were staying in schools and Sunday schools and I was just really grateful to be with a hosting family. They were absolutely lovely. Raitis would pick us up in his car every night after evening prayer and drove us to his house. He also took us to the seaside and a nice neighbourhood where he dreamed of living one day. Elina cooked dinner for us a couple of times. We could help ourselves to anything that was in the fridge. 
I loved hearing Raitis'es story of how he became Christian at the age of 12 and how God has led his life. We were once in his car driving back in the evening and Raitis challenged me, Dorota and Roman with a question that sounded something like: "How do you achieve an eternal life [as a Christian]?" So we came up with, amongst other things, obeying the 10 Commandmends, being a good person, following footsteps of Jesus. "Well", Raitis said, "Only Jesus obeyed all 10 Commandmends without ever breaking them, does that mean no one can go to Heaven?". I must admit, he got me there. So eventually, after good a few minutes of brainstorming and me translating what Dorota and Roman were saying, Raitis gave us the answer, which to me was like an aha! moment. "Jesus died for our sins. So, in order to get an eternal life, all you need to do is to believe in Christ. That's it." Of course that's it! Why didn't I think of it earlier? - I thought to myself.
So I spent days walking around the old town and getting lost in its little streets. Sometimes I'd have a cheeky coffee or hot chocolate. I participated in some workshops organised by Taize community. I'd be back in late afternoon for my volunteering duty and after dinner I'd go straight to the evening prayer. I experienced some serious spirituality during one of those prayers, but I think it was so personal I'd like to keep it 'offline', so to speak. 
We celebrated New Year's Eve starting with prayer for peace in the World. We then watched the fireworks outside. We didn't feel like staying for the "feast of the nations" so instead we headed home with Raitis and Elina and talked until early hours of the morning. 
On the New Years Day we went for the morning service in our local Baptist church. The pastor there I must say was hilarious. Already on the first day I met him I noticed his witty sense of humour. Before the service, he said "I know there's some catholics here and I know you may not want to participate in our communion. However, you can always come up and I'll give you my blessing... for free". So I got my free blessing and when we got back to our hosts home, they had lunch for us prepared. We then took some photos together and it was time to say goodbye. 
I flew back from Riga to London that evening, feeling that 2017 would be an exciting year. 
Tip: Riga airport is small but at times has large capacity of passengers. Allow at least 2 hours before your scheduled departure - queuing up to get through customs took me nearly 1,5 h!
Thank you for reading.
Boogie
xxx
---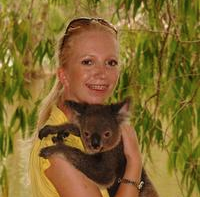 Hello stranger! My name is Bogna, but you can call me Boogie. I come from Poland, but have lived in a few different countries, including UK and USA. In the past I have been a summer camp counsellor, special needs teacher, cruise ship photographer and  IT Support. I am the author of BoogiePlanet.com This website is all about the experiences I encounter in different cultures and the World I see through my lens. You can help me fulfill my dream to be a travel photographer and perhaps to inspire you to travel by liking my page on Facebook, or following me on Twitter and Instagram. 
---
If you enjoyed this story, you may also like: