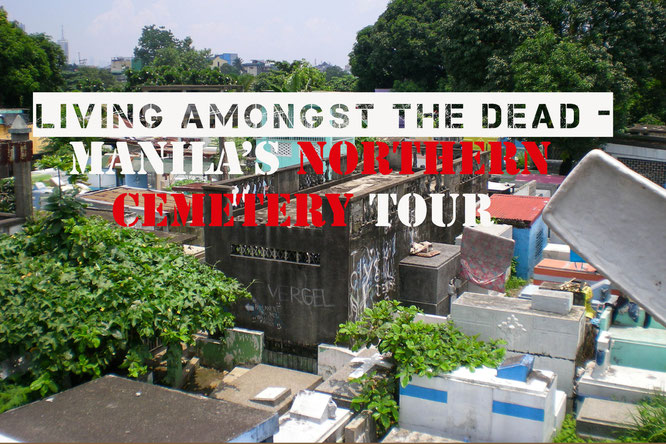 I first learned about people living in Manila's Northern Cemetery from a Polish TV documentary series "Kobieta na Krańcu Świata" ("Woman at the end of the World"). It was showing the life of a Filipino family that had a tomb as a house. Their smiling faces, despite the struggles and poverty they lived in, really touched me. I cried together with the family when the journalist and reporter - Martyna Wojciechowska - altogether with her team, brought a surprise Birthday cake for the little girl in the family. It was her first Birthday cake ever. You can watch that episode below, just be aware the license is valid for Poland only:
http://nakrancuswiata.tvn.pl/odcinki-online,5/odcinek-7-seria-5-zycie-w-grobowcu,23332,o.html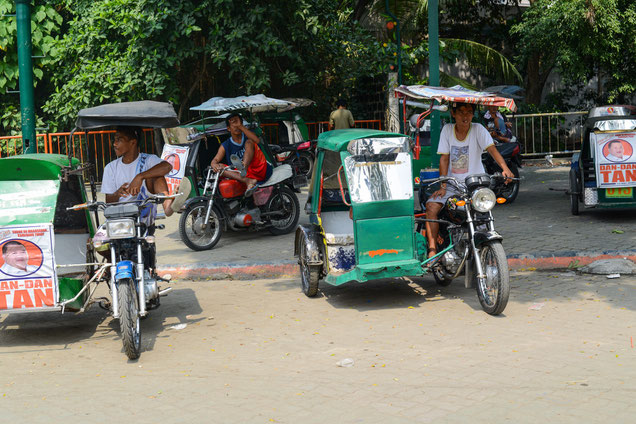 Maybe a few months later I read on one of the bloggers website a story of people living in slums of Manila, on a dumpsite. Sabrina took the tour with Smokey Tours, who organise a few different tours in Manila, including Slum tour, Prison tour, Cockfighting tour, Bicycle tour and yes - the Cemetery tour. As soon as I booked my ticket to the Philippines last year I knew I had to take the Cemetery tour and visit the Northern Cemetery of Manila myself. The Smokey Tours provide 100% of the profits to a local NGO, which provides typhoon and disaster relief. Obviously, people who live in slums, without infrastructure, get most affected during typhoons. We were travelling on a budget of about 20$ per day but I thought we could spare about 16$ (700 PhP) each for the tour.
We met up with our tour guide, Jessie, at a local McDonalds where he explained photo use policy and general rules of the tour. He said they had to abide with the request from the city administration about showing the "ugly" side of Manila, as well as respect the privacy of residents. That is why photos shown in this post from inside the cemetery come from other sources and were not taken by any of the tour's guests. 
The first stop was the flower market which is tightly connected to the cemetery. People go there to buy flowers, mostly for the funerals they participate in. The florists do not earn a lot of money from their jobs. There are also people who act as "personal shoppers" and bring new customers to the florists, getting commission from the sales.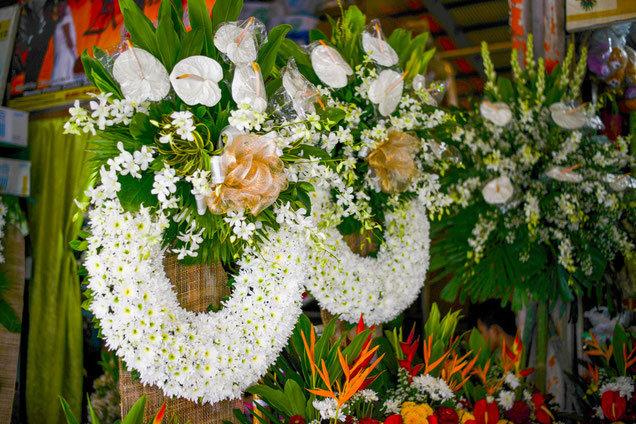 We then took a jeepney (local mean of transportation) where Jessie taught us how to pay for your ticket in Tagalog - the language of Manila region and many Filipinos. We then stopped by the entrance to our main point of the day - Manila's Northern Cemetery.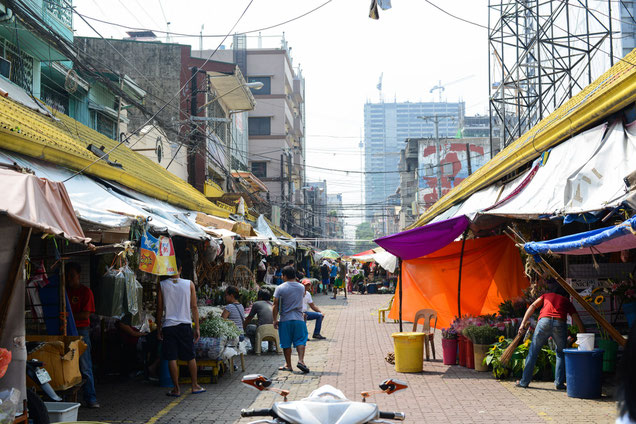 There were heaps of stories that our guide told us. Since there was just me and my partner on the tour that day, Jessie could focus his attention on the two of us. We first saw mini graves in something that looked like a wall of graves. Those were used by people who could not afford a proper grave on a piece of land, they were simply much cheaper. We visited one family who looked after those mini tombs. Once a year, the family looking after the mini tombs would get a small amount of money from each family whose member was resting in peace in there. They had to use the money wisely, to make it last all year round. It usually wouldn't. Our tour guide was friends with the family and brought them their favourite snack. I thought it was a nice gesture.
We also saw a couple of large, nice graves that belonged to the rich and famous, such as the former president. The veterans Mausoleum was another one we saw. The Philippines were under Spanish, then American and Japanese occupation in the past, so tombs of soldiers from these countries were likely to be seen.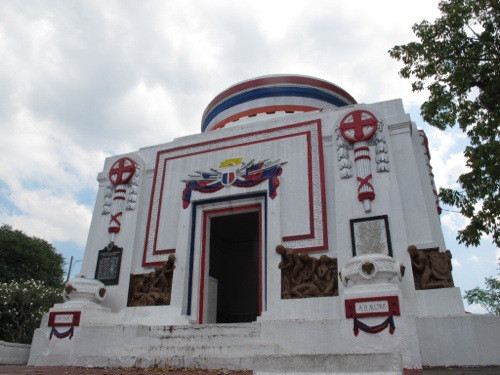 We passed by a square where the Red Cross medical check up was taking place. We were told that they come once in a while to help the families living there do such basic things as free haircuts. 
In the last a few years the population of families living amongst the dead has increased to about 500.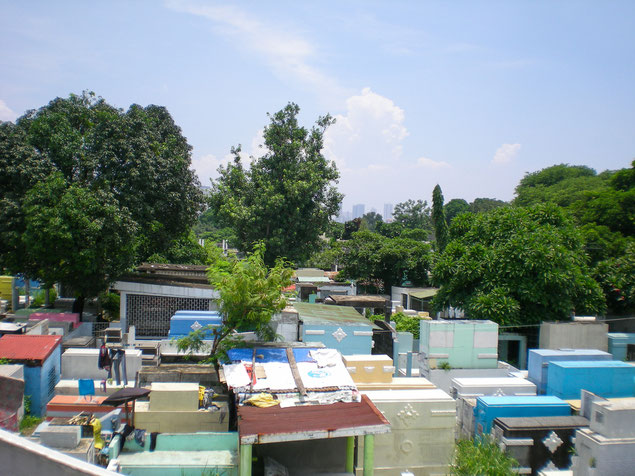 That means about 2000-2500 people live - alive - in the Northern cemetery. Apparently it's safer to live there than in the streets of Manila. I can picture that. Needless to say, life for those people is tough. They earn money looking after tombs (which I would call once a year boost of income), running mini kiosks with food or driving hired tuk-tuks.  Unless they are privileged to stay under big roofed tombs, they very often do not have a roof to hide from the rain. 
I knew we would meet some locals and their children during the tour and for a while I had wondered what to bring them. Money was not an option - teaching children begging doesn't do them any favours. Sweets also is not a good idea, especially that they do not have regular access to a dentist. So I thought crayons and postcards from my home country (Poland) would be an idea. I thought it would give them courage to talk to us, to learn about a place they probably never heard about. And yes, I got good interaction from the kids - at first a bit shy, when they realised someone was giving them something, they called other children, so we soon ran out of the postcards and the crayons :).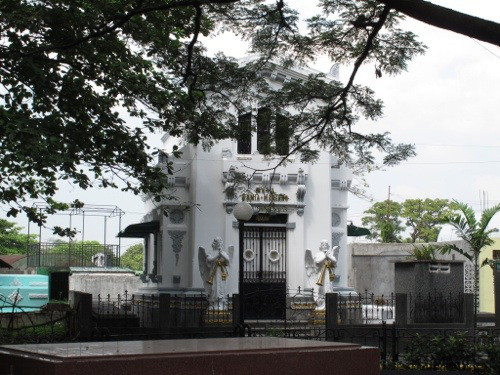 The 1st of November- All Saints Day - is a huge deal for the Filipinos. Most of the nation is Christian and they celebrate that day like no one else in the World. They come to the cemetery with the whole families and often stay overnight, bring food and drink and celebrate remembrance of the ones that are gone from this World. Some of the rich families have built mini houses in the cemetery, with running water, electricity and even wifi, to be able to stay there for the 2 days in the year. 
Poland celebrates All Saints Day but it's rather a sad day, we bring candles and flowers to the cemetery for the graves of our family members but quite frankly we can't wait to get out of there. Maybe it's the weather - rather cold and wet around that time in Poland - that doesn't encourage us to stay for longer than, let's say, a couple of hours. Philippines is a hot country, all year round. On the day we were there (mid-August) it was really humid as well, we were sweating our sweat.
An interesting part of Manila's cemetery is the Jewish cemetery. During World War II a lot of Jews heard of the Philippines as a safe place to be for them and they came over / decided to stay. For many of them it was supposed to be a stopover to America, where they never made it to.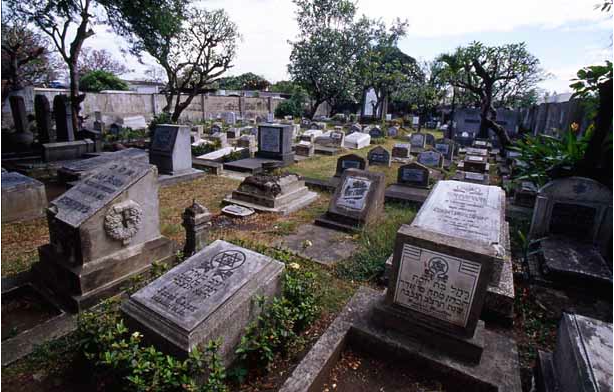 Filipinos have a lot of superstitions. That includes the colour of clothes you are not supposed to wear in the cemetery area - red and white. White, because that's the colour of mourning and Filipinos wear it to funerals (as opposed to black in the Western culture). Red can only be worn by small children so that the spirit of the dead will not haunt them.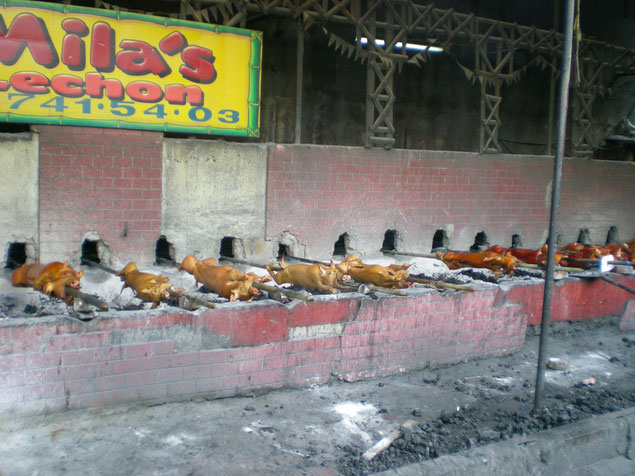 We finished our tour in the lechon street. It's a street in Manila where they roast a lot of pork that is then sold all over the city for the national dish of the Filipinos - lechon. I try not to judge foreign cultures but I couldn't help feeling sorry for those pigs on the roast.
If you would like to go on the Northern Cemetery or any other of the earlier mentioned tours, visit www.smokeytours.com
Thank you for reading.
Boogie
xxx
Pin it!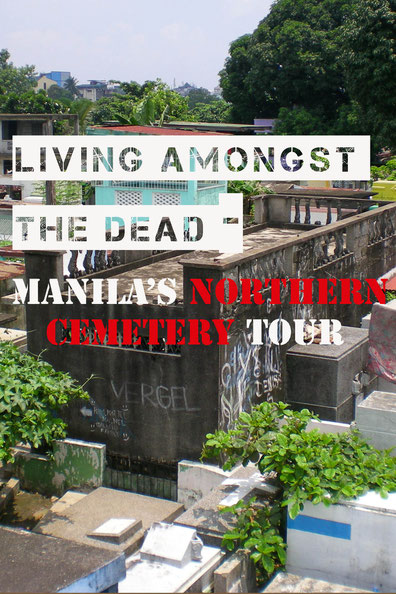 Share if you care!
---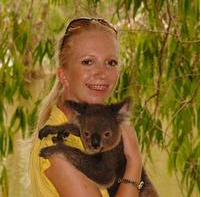 Hello stranger! My name is Bogna, but you can call me Boogie. I come from Poland, but have lived in a few different countries, including UK and USA. In the past I have been a summer camp counsellor, special needs teacher, cruise ship photographer and  IT Support. I am the author of BoogiePlanet.com This website is all about the experiences I encounter in different cultures and the World I see through my lens. You can help me fulfill my dream to be a travel photographer and perhaps to inspire you to travel by liking my page on Facebook, or following me on Twitter. 
---
If you liked this story, you may also enjoy: