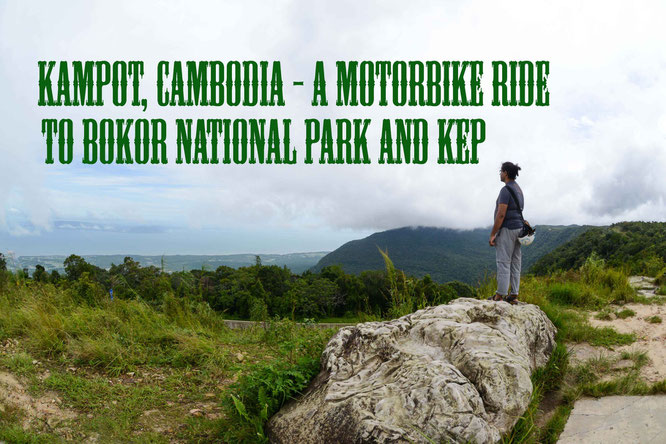 A couple of hours from Phnom Penh down South lies Kampot. We first learnt about it from our AirBnB hosts in the capital of Cambodia and decided to give it a try. From sunny Phnom Penh we got ourselves straight into monsoon-rainy Kampot. Lovely. We checked into a guest house that we were recommended. Learnt by experience, we booked 1 night only. After a couple of hours we knew it would be our first and last night there. We didn't quite like it, so that afternoon off we went on a quest to find a place to stay for the next few nights. We must have seen 7 or 8 different places, all in the same cheap price range – between 6$ and 10$ per night. Our final choice became Rong Reung guest house, which was much cleaner, the room was much bigger and had 2 double beds. All of that for 8$ per night.
The town was small, all could be reached within walking distance. Located by a river, about 25km from the sea, it had a nice breeze and didn't feel as humid. It was much quieter than Phnom Penh and Siem Reap, too.
There in Kampot was the first time we decided to rent a motorbike. My partner is a good car driver, but he has never ridden a motorbike. We rented a fully automatic scooter, for 4$ per day. The petrol was like $0.80 per liter. The guy renting us the bike instructed us how to use it, my partner made a circle along the road and back. He seemed ok, so off we went for an adventure. We decided to go to Bokor National Park, which was supposed to have nice mountain views and waterfalls. We rode almost all the way up the hill. Halfway through we stopped by to take some pictures. We pulled over on gravel on the side of the road. Trying to get it back on the road turned to be an "adventure" of its own. My partner tried to push it walking on one side, and I thought I'd help him. I held the handle on the right hand side and suddenly the bike started moving too fast and I couldn't keep up with it. In a panic, I'd let it go and it fell on its side. What I didn't realize I was doing was accelerating by turning the right handle. So the bike fell and the front got scratched. Lesson learnt: never let a newbie hold a bike handle on the right, it's an accelerator! Luckily we didn't get injured, I just came out with a bruise on my forearm. It took me a few minutes to calm down, as my partner continued to ride. It takes trust to the whole new level when you're a passenger on a motorbike!
At some point we found ourselves in between clouds and you could hardly see a thing. It reminded me of skydiving a little, the only other time I could literally feel clouds on my skin.  The view from the top was pretty lovely, you could see the sea in the distance.
After lunch in between clouds we decided to ride down, and headed towards the coastline in the town of Kep. Within less than 2 hours we made it from the top of the mountains to the seaside. It was the first time we were seeing the sea since we arrived in South East Asia. The beach was rocky, not designed for swimming nor sunbathing. But it was still nice to sit there on the bench for a little while and relax. We then had an early dinner, in a restaurant that was going right into the sea. I ate some of the best and freshest calamari ever.
The town in itself doesn't have too much to do. It has black pepper plantations around, you can go on an organized trip if you wish. But it was a nice break from  the hustle and bustle we experienced in Siem Reap and Phnom Penh. The following day or two we spent playing card games in restaurants, stroking cats at local cafes and chatting to locals.
We then had to make our way back to Bangkok, from where we had a connecting flight to our next destination – the Philippines. I'll tell you about our journey back to Bangkok and the last couple of days there in the next story.

Thank you for reading.
Boogie
xxx
---
Hello stranger! My name is Bogna, but you can call me Boogie. I come from Poland, but have lived in a few different countries, including UK and USA. In the past I have been a summer camp counsellor, special needs teacher, cruise ship photographer and  IT Support. I am the author of BoogiePlanet.com This website is all about the experiences I encounter in different cultures and the World I see through my lens. You can help me fulfill my dream to be a travel photographer and perhaps to inspire you to travel by liking my page on Facebook, or following me on Twitter. 
---
If you liked this post, you may also enjoy: