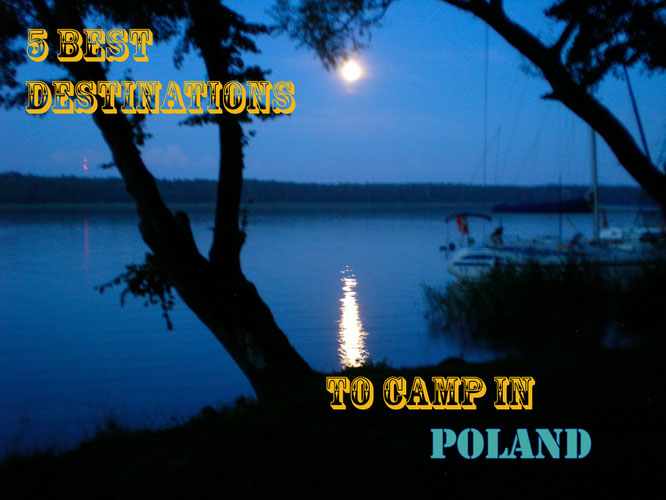 Last summer I did a road trip around Poland. 
I have seen well over 50 countries of the World, but when it comes to my own home country – I have not been to enough places. Some of the areas I saw a long time ago, some I have not visited ever. So when my partner said "let's go and see some more of Poland this year", I jumped at the opportunity. We have lived here in Poland for about 2 years but have not had a chance to see a lot together.
As we wanted to be flexible with how long we wanted to stay for and where to go next, we decided to go on a camping trip. As we now have a car, it sounded like a good plan.
We used Rough Guides to Poland as our resource. It has a lot of tips and useful information about the destinations themselves, as well as places to eat and stay, including camping. On a couple of occasions we just found some lovely places that were not in the guide.
I know, I know – camping is not for everyone. Optionally, you could stay at a bed and breakfast or a hotel if you wished to do so. The destinations I will mention below will provide all of it. However, I think there is no better way to enjoy nature than camping. It provides benefits such as seeing stars at night, making camp fires, breathing fresh air, and a lot of flexibility. Usually you don't have to book a place in advance. You just come and leave as you wish. If you like the place – you can stay longer. If you don't – you go somewhere else.

So what are some of the best (camping) destinations in Poland? 
Let me tell you...
5. beskidy mountains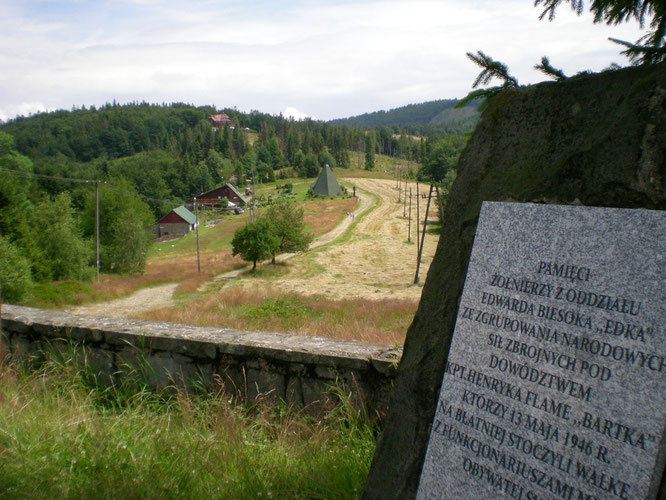 About the destination
Located in the South of Poland, the majority of them in Silesia region, the mountains are excellent for not so advanced hikers. They are fairly mild but provide excellent views. Great escapade for a weekend. You can choose either Ustroń, Wisła, or Brenna.
Where I stayed
Although my favourite in the area so far is Ustroń town, with a nice skylift and great hiking trails, I did not camp there. I camped in Brenna though, which has camping right in the town, just across a little bridge through the river.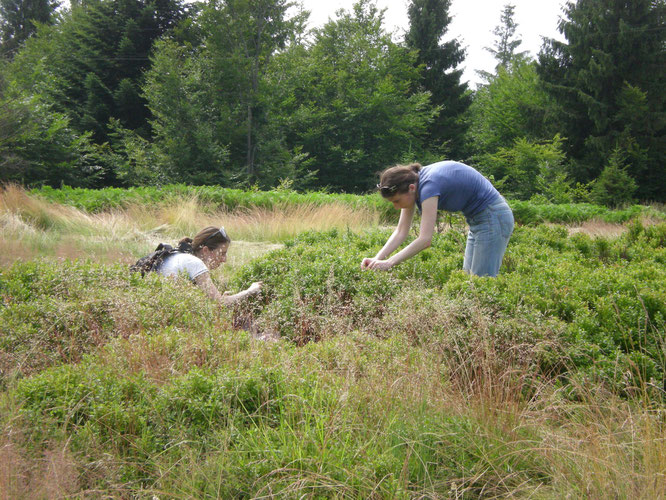 Pros:
The camping is in the town, and is quite well maintained. It has hot shower cabins, several benches with tables under a little patio so that you can prepare and eat your meals with pleasure. It also has a dining hall, so you can hide and eat there if it's raining.
We went on a blue/yellow trail and stuffed our mouths with blueberries that were growing on the way to the top of the peak. And when we got to the top, there was even more of them – a whole field! We must have stayed there for, like, 2 hours, it was definitely a highlight of the trip.
Cons:
The campsite, although done well, is a little small – and felt slightly packed when we were there in the season (July). No particular bugs except for some mosquitos.
4. bieszczady mountains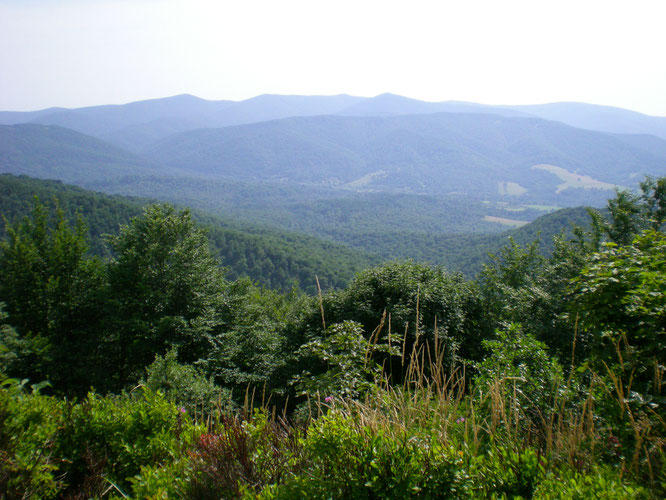 About the destination
Bieszczady are some of my favourite mountains in Poland, if not ever. Tucked in the South Eastern part of Poland, near to the boarders with Slovakia and Ukraine, they are arguably one of the most mysterious and gorgeous places to visit in the country. Famous for mountains of meadows (called "Połoniny"), they offer breathtaking views and wild animals you won't see in other parts of the country. Połoniny Wetlińska and Caryńska are some of the most famous.    

Where I stayed
We pitched our tent at PTTK campsite in Wetlina. From there runs a good hiking path to Połonina Wetlińska (about 2 hours of climbing), through the Bieszczady National Park.
Pros:
We pitched our tent just behind a stream. It's beautiful sound would send us to sleep at night. The starry sky was amazing to look at.
Wetlina is a lot quieter than Cisna, which for me was a bonus. Shop was just 200m away from the campsite.
During our stay there we went on a hiking trip to Połonina Wetlińska. Although done in 30 degrees heat, views were worth climbing. My partner saw a snake trying to eat a leg of a frog, which luckily escaped!
On another day we went to Majdan, 20km away from Wetlina. It has a "kolejka leśna" – a traditional forest railway, which runs through the mountains.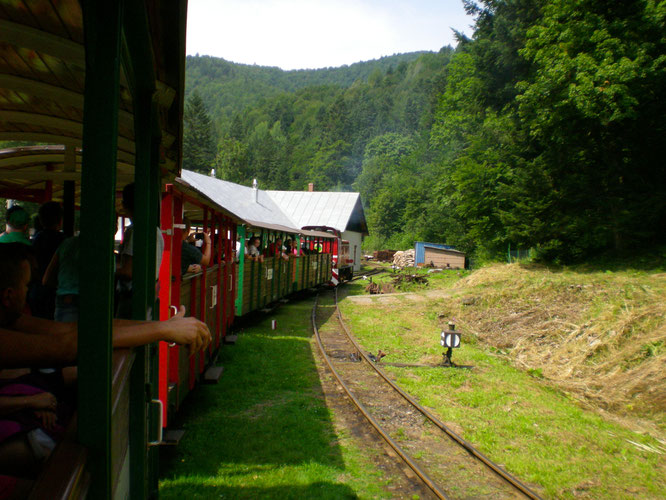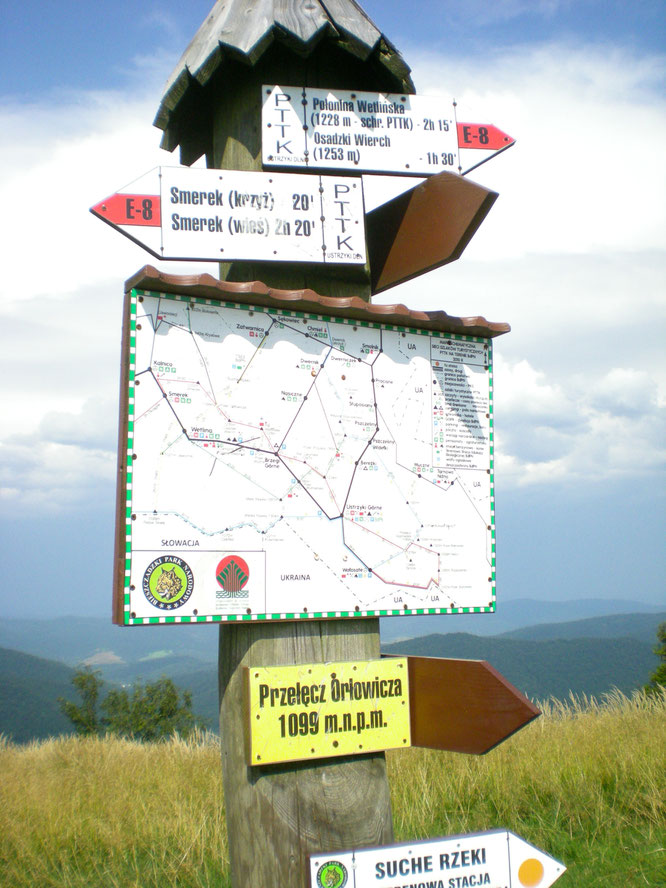 Cons:
Campsite itself had hot showers, may I add burning hot – I could not get the cold water out, lol! A couple of times we had to "break up a party" of tiny flies and mosquitos in our tent. By that I mean get a towel and hit hard, until they either escape or…
Please note there was deposit taken of 20zł for the tent number  - given back upon departure with the number returned.
Driving in that area is a little crazy – the roads are endless serpentines of turns, travelling 20km may take as long as nearly an hour. Good school of driving skills hehe.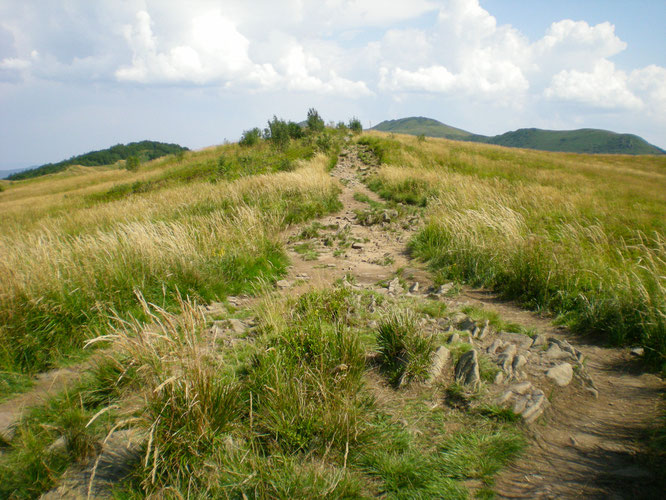 3. BALTIC SEA - GDANSK AND HEL AREA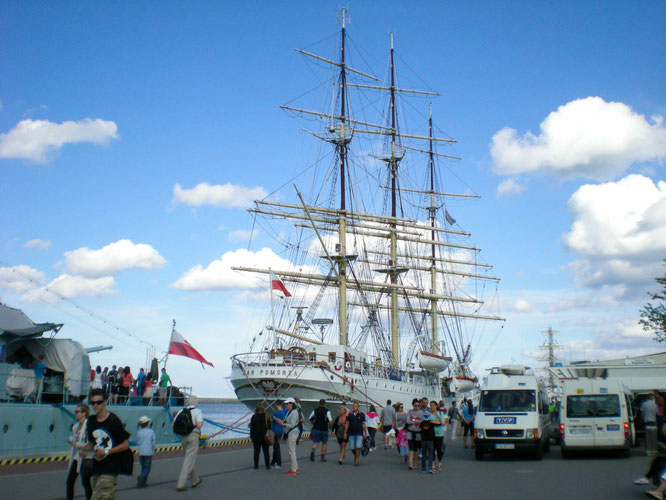 About the destination
Baltic sea may have cold water (being in the North of the country rather than the South), but some of the most stunning, sandy beaches. We first went to the Gdańsk area – with the historical city of Gdańsk itself, port of Gdynia and beach town of Sopot. Then we travelled about 50km up to the Northernmost part of Poland – Hel peninsula. Hel is formed of sand and in some places it can be as narrow as 200m.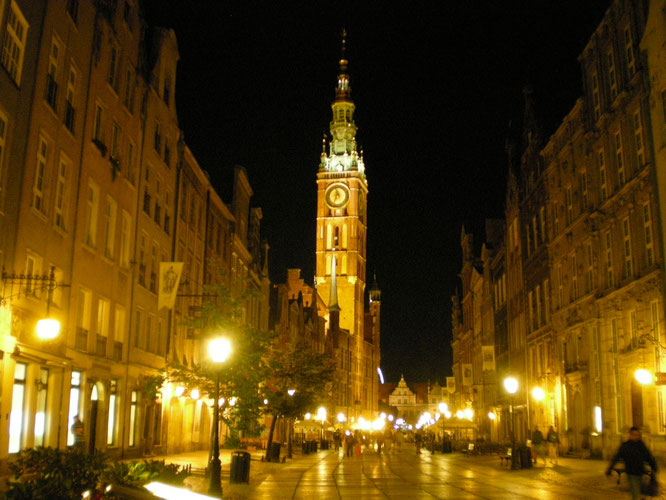 Where I stayed
In Gdańsk, we stayed at campsite called Stogi, about 7km away from the town centre. It was located near a beach.
In Hel, we just picked one of several campsites tucked in the coast of Hel, about 1km away from Chałupy village (famous for a nude beach, lol).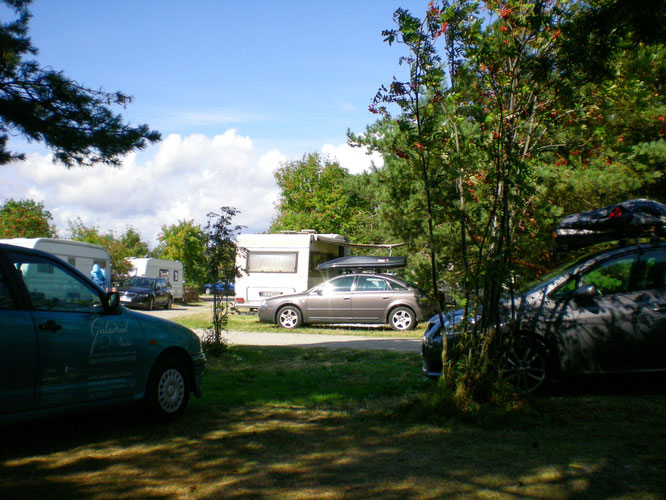 Pros:
Stogi campsite had excellent showers/bathrooms facilities. The bus/tram stop to the town was just a few mins away from the entrance gate, and the ride to Gdańsk centre was about 20 mins or so. The camping also provides simple wooden cabins, but being in a hot season they were fully booked.
Being in the city in mid-August, we managed to see the St Dominicus market (Jarmark Dominikański). It is a traditional market which sells absolutely everything, including a lot of handmade stuff, established 700 years ago.
We also met up with our friend Joanna from London, who was visiting her parents in the area. It was a good catch up.
On the following day we travelled to Gdynia – a port city, only established in the thirties of the XXth century. It is famous for its International port. We went to see one of the training ships for sailors – Dar Pomorza. I loved it, it reminded me of my times when I used to work as a cruise ship photographer. It was just a bit smaller and much older. A lovely vessel.
After that we went to Hel. The campsite was windy – we were just several meters from the sea, with perfect conditions for surfing / windsurfing / kitesurfing. We didn't do either. Instead we walked through the road and a tiny bit of forest, and went to the beach on the other side. Miles of beautiful, sandy beach, and a lot less windier because of the trees. The water was cold (I dared to go up to my hips but no further) but who cares? We did some walking, some Frisbee playing, book reading – yup, just much needed relaxing. On another day we travelled to the tip of the peninsula –town of Hel itself, northernmost point of Poland.
We walked through the main street, saw seals at Seals sanctuary  - so cute! Then we went to the lighthouse and back, and ate our dinner at a lovely restaurant called By Sea Side. The owner had an American wife and a beaming smile, very charismatic guy. We had a chat with him for a while. My plaice was great.
Cons:
Getting to and from Hel is…hell. It took us 1,5h to drive 13km. In the high season 1 road with just 2 lanes is just impossible to get through. We passed by 4 campsites hearing "sorry, no spaces" before we got into one where we could just pitch up our tent. And it was uber-busy, 1 tent next to another. Also, the campsite had hot showers… if you paid for them (2 zł for 4 mins or something like that). Otherwise it was just cold water. I would go back to Hel, but not in high season (July / August).
2. PIENINY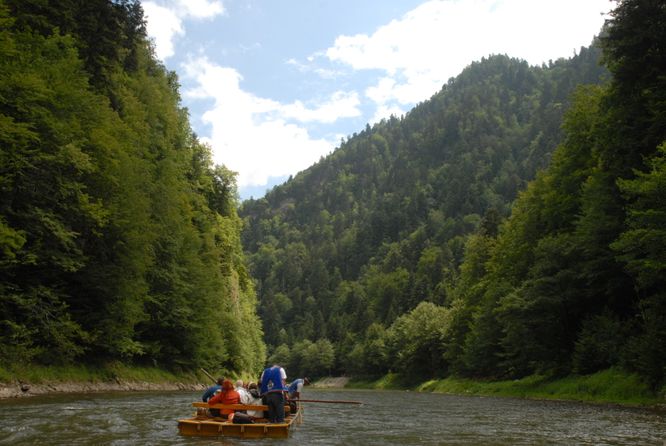 About the destination
Pieniny mountains are not too far away from Tatras, however milder and a bit lower – still very picturesque. First time I had visited about 6 years before, in a cold winter. And I learnt to ski there, in a lovely town of Krościenko nad Dunajcem.
2nd time I visited was in the summer of 2013. Me and my partner went for a weekend camping trip. Lots of hiking trails including Trzy Korony (Three Crowns) peak and of course rafting down Dunajec are some of the best things you can do there in the summer time. The place is most beautiful to visit in autumn (September/ October) when the trees have amazing colours and views which come straight out of fairy tales.
Pros:
The campsite in Krościenko is inexpensive and on a side of Dunajec river. In the evening we managed to gather some wood and made a camp fire, just by the river. Sausages and potatoes after a whole day of walking tasted yummy.
If you don't drive, it is still possible to get there by local mini buses and coaches – directions to/from Zakopane (Tatry mountains), Kraków and even Katowice.
Water raft down Dunajec river is a must.  It is 2-3 hours on a river in special kind of a boat, with views taking your breath away. Make sure to bring  some warm jackets, as it gets windy there!
Pieniny is my number 2 destination, not without a reason. I went there in all possible seasons and it never failed to impress me. Hiking trails are great, for all kinds of fitness levels. In the winter you can go skiing there (I'll write about it another time), in the summer it's excellent for camping.
Cons:
It gets cold at night, even in the summer, so bring some warm clothes.
The campsite shower facilities were so-so. Cold water.
1. MAZURY
Are you ready for my favourite (so far) camping destination in Poland? Here we go!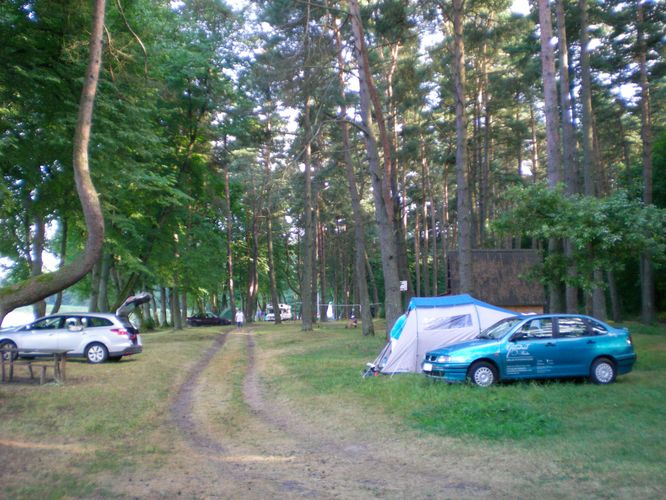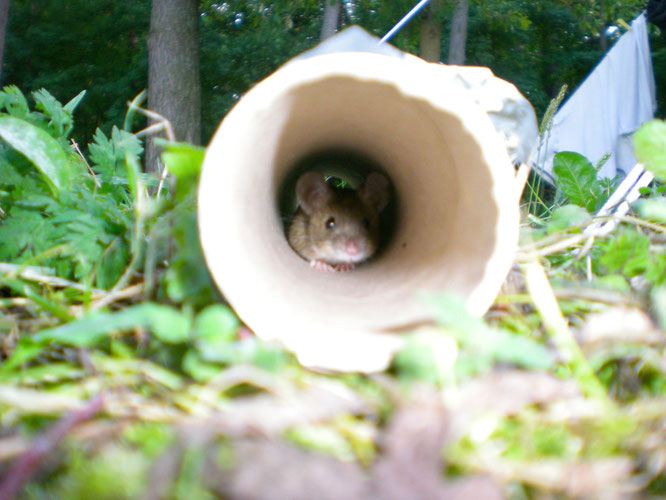 About the destination
Located in the North East of Poland, the area of Mazury is covered by thousands of lakes. They are everywhere.  It is quite a widely-spread region and I can only write about a small part of it that I visited.
Cons
I will first write about the cons, you'll find a reason behind it in a moment.
When we came to Mazury, we opted for Mikołajki, one of the most famous towns in the area.
I had been to Mazury before at the age of 17 (Gosh, when was that?!?) at a scout camp and I had a blast then. That was a small lake in a remote village we stayed by. Now we were heading for something bigger. And it was a mistake.
Ok, Marina of Mikołajki is quite nice, but everywhere is just so commercialized, with ice-cream stands, cafes and shops all over the place. The campsite we stayed at had all the facilities under the sun – except that there was no sun. The 2 nights of our stay there it was pouring down with rain. The campsite Wagabunda was very expensive, but on the bright side it had a washing machine (we did our laundry for the first time in a week) and even wifi. (Who the heck needs wifi when camping?!?). It was pretty packed too, and where we were told to pitch our tent, we found ourselves surrounded by families with children. I love children, but when they started playing a ball (in that short time gap of no rain), it kept being hit against our tent, and they were SCREAMING (in excitement, of course). Not an ideal place if you want to just rest. The campsite was on top of a hill, and we dreamed of seeing a lake from there which was not an option.
So, after 2 nights we decided to find somewhere else.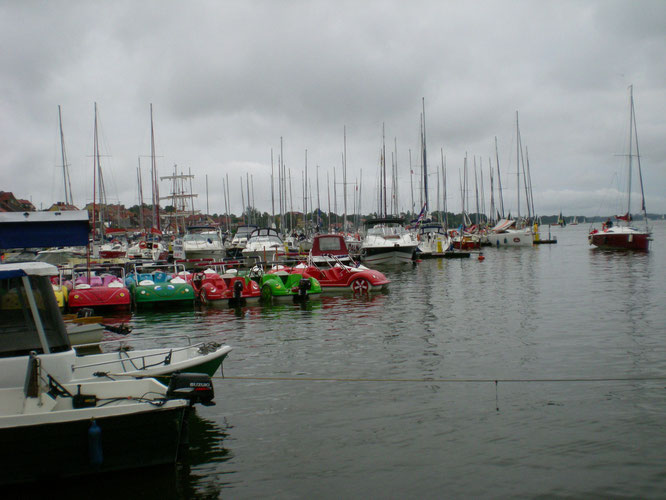 Pros:
We dreamed of a  camping location near a lake, somewhere quiet-ish. So we drove along towards the town of Giżycko, looking out for places to camp that would not be found in a travel guide. When I suddenly saw a sign "camping" on a wooden board pointing towards an unpaved road in the forest, I knew that was it. We found our perfect camping spot, called camping BILA. 5 meters from the lake, in a forest, with clean toilets (although no showers!) and friendly owner. All for half price of the wifi campsite. I swam in the lake and in the evening there were more than a few spots to make your own bonfire. We even met a friendly couple from Sosnowiec who were sailing with their dog. Yes, there were boats "camping" here for the night, too. The town of Giżycko was about 15km away and we went there to shower (a few shower places in a marina are normal to see, people sailing usually do not have showers on their boats). We went to eat local fish (I must admit more expensive than fish by the sea side) and got caught in a torrential summer rain, which was actually quite funny.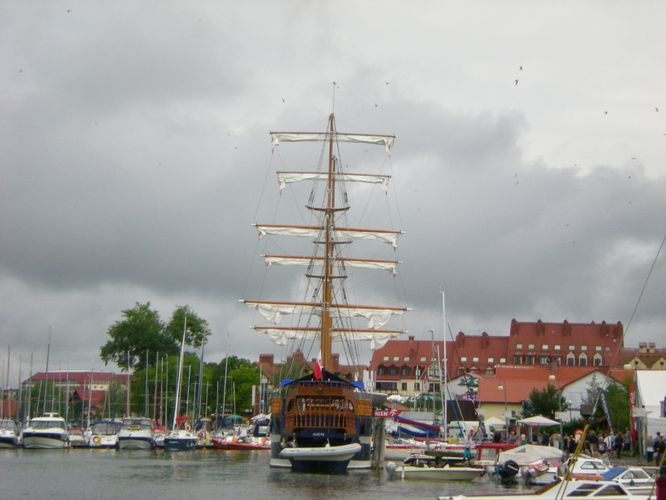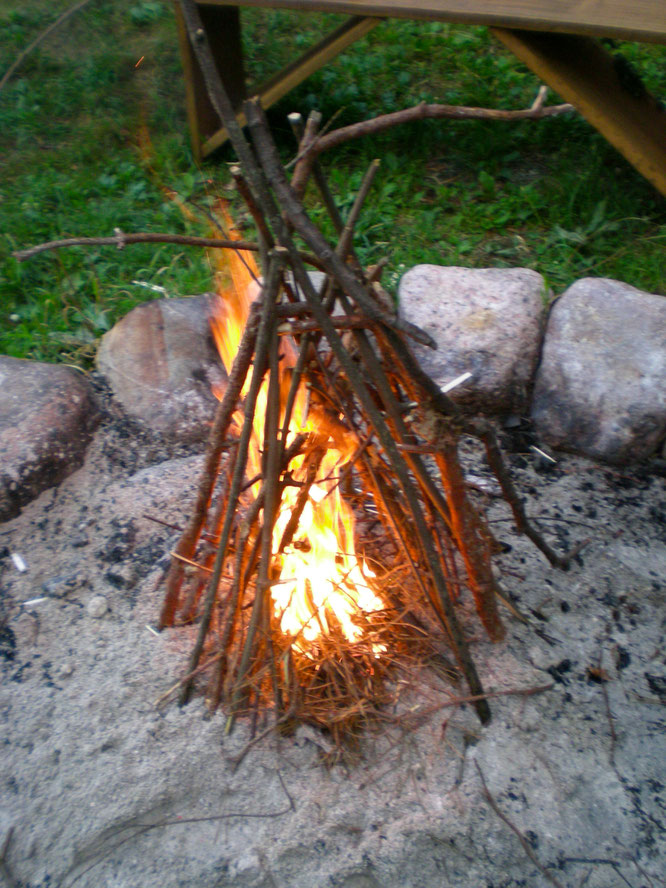 So, have you ever tried camping? Did you like it? 
Do you have your favourite places to camp in your country? Please share your thoughts!
Thank you for reading.
Boogie
---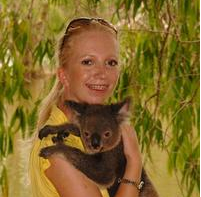 Hello stranger! My name is Bogna, but you can call me Boogie. I come from Poland, but have lived in a few different countries, including UK, USA and Australia. I am the author of BoogiePlanet.com This website is all about my travel experiences. And photography. I am a photographer, and I try to capture those magical moments in different places, as much as I can. I have travelled to over 53 coutries so far. I am hungry to see more. You can help me fulfill my dream by liking my page on Facebook, or following me on Twitter.