Some of the best summers of my life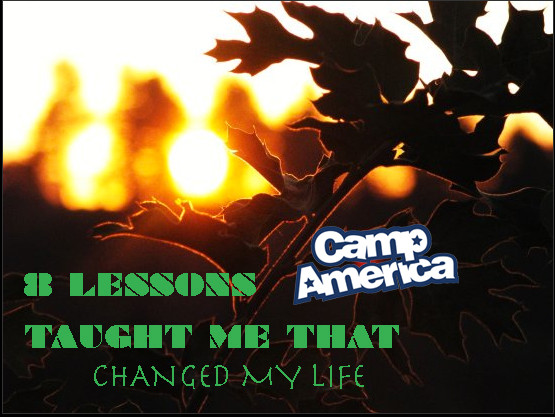 It has been 9 years since I did it for the first time. And every summer since I have been longing to do it again. I cherish all the memories. And I think how much it has changed my life. It turned it around by 180 degrees. I would never have reached where I am now if I hadn't done this crazy thing one summer. And then another one, too.
I went to CAMP.
In America. And let me tell you – I am jealous of all people who are going there this year. Why? Let me tell you my story…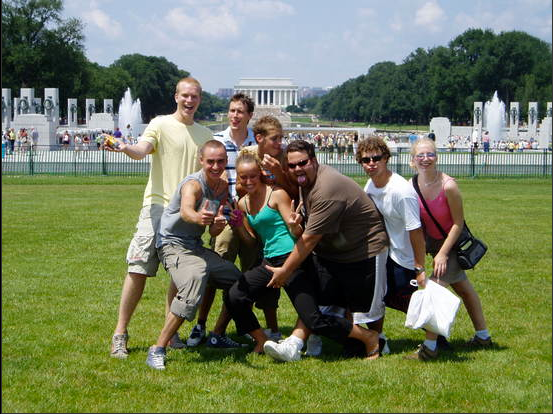 I had just turned 18 years old when I first time saw a poster promoting Camp America. It sounded almost too good to be truth. Working through a summer at a summer camp, having fun with kids, improving my English and travelling around the US of America – a country I had always wanted to visit. I applied immediately. Unfortunately I did it a bit too late (end of April) and I did not receive a placement before June.
A year later I was applying for University and exams took place in July so I couldn't attend camp. But when I saw the poster again in October 2004, while enjoying my first months as a University student, I decided to try again. 
By January time I received a placement. I was supposed to go to a special needs camp.
Gosh, little did I know…
Lesson 1 – LESSON OF ENGLISH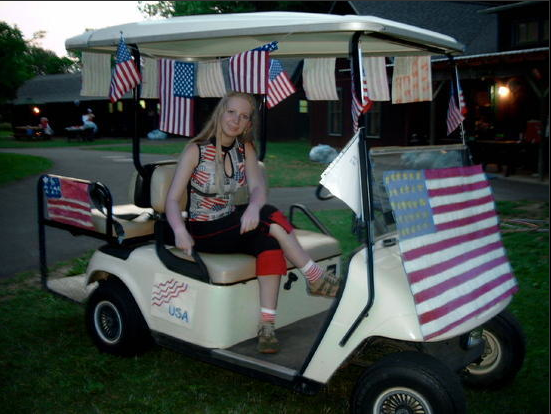 When I was going to America for the first time, 10 years had elapsed since I started to learn English. School English, I may add. And I had never been to an English-speaking country before. Either way, I thought my English was good enough. I was VERY WRONG.  It was 13th of June 2005 when I set my foot on the land of the USA. The following morning, at a hotel where we were staying, I met a girl that was going to travel with me to camp. She was severely hearing impaired and she was Scottish. These two combined together made her impossible for me to understand – as lovely as she was. We ended up writing on a piece of magazine paper, in order to communicate with each other. I remember being shakingly nervous because I had to call camp and ask someone to give us a lift from the final train station to camp.
And that was not it. The camp staff was represented by 35 different nationalities. A complete and utter melting pot. I loved it. Each of them was speaking a different accent. And I tried to spend as much time with English native speakers, as possible – to learn proper English.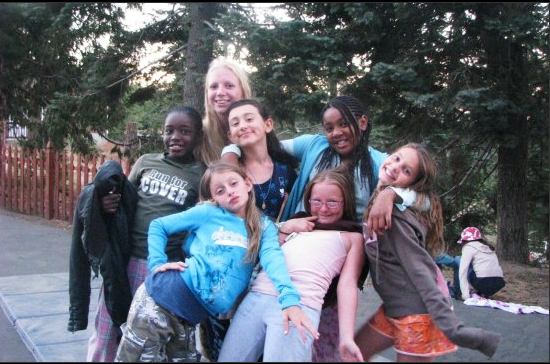 After about 2 weeks at camp I was already having my dreams in English, after 10 weeks I felt like my language went up by 2,5 levels. For the first time in my life I was actually THINKING in English.
Already a year later I worked as a market researcher at a call centre, making phone calls to clients… guess in what language?
Lesson 2 – LESSON OF FRIENDSHIP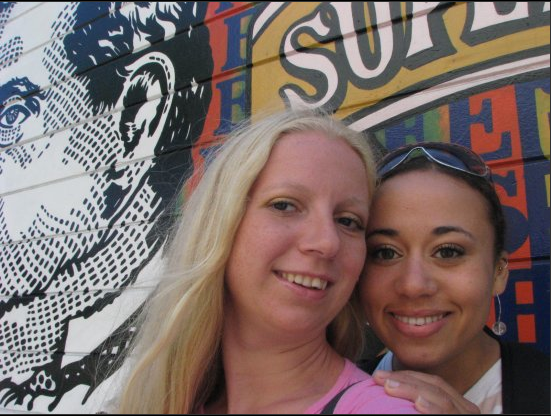 Camp was tough. I suppose it is going to be tough when you're thousands of miles away from home, for extended period of time. My first camp (I ended up working at a few of them, for a couple of summers) was especially hard, because of the nature of campers. All of them had special needs. They would bite you, spit at you, poo on the floor, pull your hair, pinch your skin, sometimes verbally abuse you. Well, not all of them, some of them were lovely. Either way, you'd need to put up with all this craziness. Feed them, bathe them, take care of them, make sure they generally had a good time.
On top of that, you were miles away from family, with a very limited access to internet and phone. And, the camp was situated in the middle of (beautiful yet) nowhere. This made you get closer to people who you were working with. You had to rely on them, cooperate with them, in order to survive those 10 weeks.
I must say I made some of my best friends EVER at camp.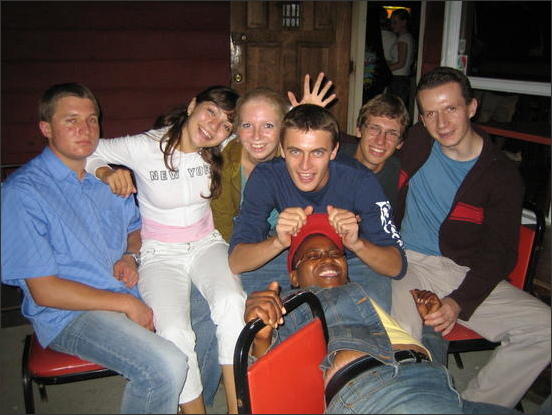 Years later, were are still in touch, we visit each other despite living in different countries. We went through so much together that summer, it created a very special kind of bond.
On the day we were all leaving, everybody cried. It was heart-breaking, not knowing if I'd see any of those people again. I did.  Actually, quite a few of them, a surprising amount of times.  My best friend I had met at camp I ended up living with in London for nearly 2 years. A few others hosted me all over the World (including Australia), sometimes at very short notice or pretty much no notice (I was hitchhiking). Huge thank you guys!
I must say: PEOPLE were one of the most valuable things I got out of my experiences in America.
Sometimes it was not just a friendship…
Lesson 3 – Lesson of love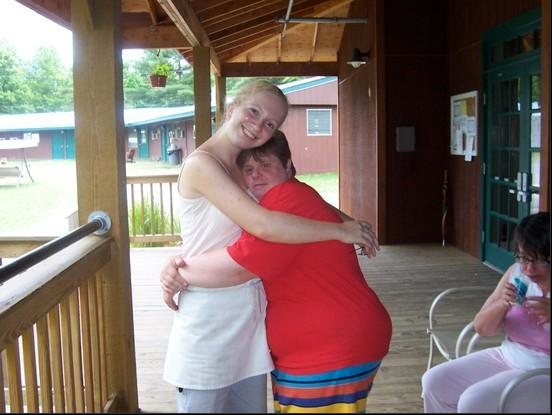 I happened to fall in love at my first camp. For the first time. I think almost everyone had a camp crush there. It was so immense. As I said, you do get close to people, because you need someone to comfort you, to make you feel better. And it sometimes turns out that it is not just a friendship.
For some people the real world was so far, far away, they would feel so detached that even having someone back home did not stop them from falling in love at camp.
My camp relationship did last almost a year. Bear in mind, in the "real world" we were living 2500km away from each other! It did not work out and I came out of it totally broken-hearted, but it was an amazing experience. And not for a minute do I regret it.
I know at least 5 couples that met at camp and got married, some of them have babies by now!  Great for them!
Lesson 4 – LESSON OF INDEPENDENCE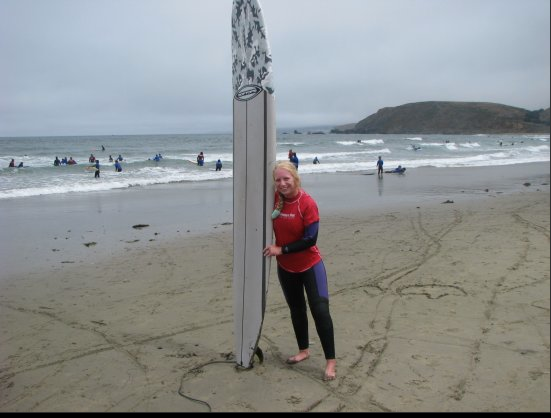 Participating in Camp America was a school of independence. My flight to America, through Helsinki, the first flight I EVER made. I then had to buy a train ticket and get to camp. Between sessions we were organizing different trips, gathering group of people from camp to join us. We had to make reservations, sometimes rent cars and book hotels.
After camp I decided to travel. I first went to NYC and stayed there for a few days with my Korean friends. Then I made a journey all the way to Niagara Falls, to the Canadian border, to meet my friend from there. One thing I did not know, was that as a Polish citizen at that time, I needed a visa to enter Canada. I learnt in a hard way. I had made some arrangements whilst being at camp, to receive a stamp in my passport from Canadian consulate. If I had been, for example, a British or an Australian citizen, it would have been enough. Unfortunately I wasn't, and I did not know the proper policies. So at the Canadian border the officer simply refused to let me into the country and ordered a taxi to drive me a couple of km long bridge back to the American border. My Canadian friend was awaiting me at the coach station, on her side. She had no idea what had just happened and I did not have a mobile phone to call her. Well, my Nokia, aka brick from 2001, did not have reception in America.  It was around 7am on Sunday morning and there was nothingness around me. No living soul, no hotel, shop, nothing. And I had over 30kg on my back and about 15kg in my hand, having gone a little crazy-shopping in NYC earlier on the trip.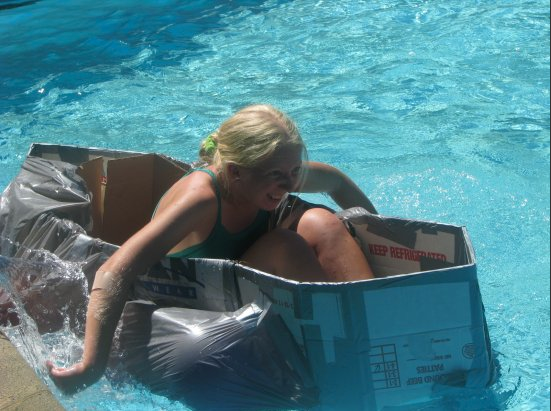 After walking for a while, I found a couple passing by and they let me use their phone to call my friend in Canada. Hanna found me walking a random pavement, not knowing which direction I was going. And guess what? With her help and Canadian passport, we managed to persuade the border officer to get me a temporary, 14-day visa to get into the country.  I had to pay 200$ for it, but never mind. An alternative was to go to a consulate and apply for a proper visa, then wait for about 5 days to issue it. I felt so determined to inform my friend that
 I was ok, just stuck in America, I did everything to get in touch with her. Not a tear out of me until I saw her  - it was a great reunion after 4 years!
2 years later I went to a camp in California, and travelled afterwards on my own, for 3 weeks, hitchhiking and using trains and buses. I organized my stay through hospitalityclub.org and partly through people I met at camp (friends and even some parents of my campers).
I have since travelled the World (so far 54 countries if I have counted right) and been away from my family for periods much longer than a couple of months – sometimes  6 to 9 months.
Never would I be able to do this if I did not learn my independence while in America.
Lesson 5 – BEST WAY TO FIND FUTURE EMPLOYER (OR BECOME AN EMPLOYER YOURSELF!)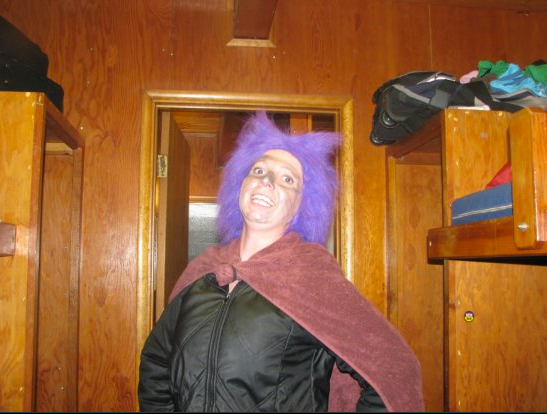 Work at camp was one of the first paid jobs I did. I was in the early years of my studies and I already knew that there was going to be a lot of competition in the job market. Working at my first camp enabled me afterwards to get a part time job as a Camp America interviewer back home. The following summer I went to work in London – and thanks to my improved level of English I found a job as a market researcher.
My photography counselor experience that I gained while working in California, enabled me to become… a cruise ship photographer. I always had passion for photography but my camp working experience was like a formal proof that I had the required skills. Not to mention the level of English I had by then.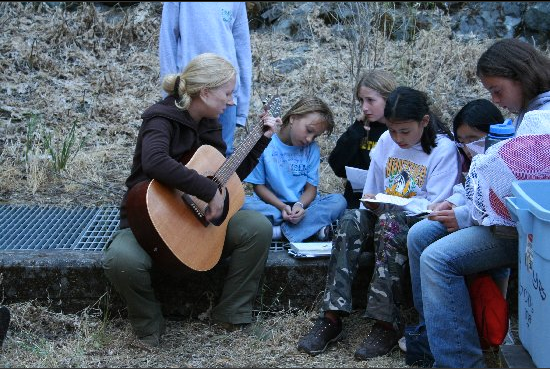 By now I am a small photography company owner, living in Poland with my British partner, out of choice.
Some of the friends that I met at camps have pursued great careers:
-Stephen is a piano seller, running his own very successful business
-Chris has moved to Australia and launched a clothes company
-Sarah is a barrister in London
-Steve works in a special needs school as a teacher
-Bex and Geth are going to volunteer in Africa
-Jorge is a (bike) tour guide in Chile
-Rhys has recently been awarded a PhD…
and these are just a few samples. In order to make a great career, you need to take that small step first. And for me it was Camp America.
Lesson 6 – DIVERSITY OF THE WORLD (aka TRAVEL!)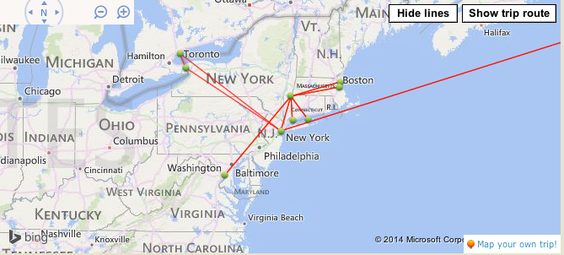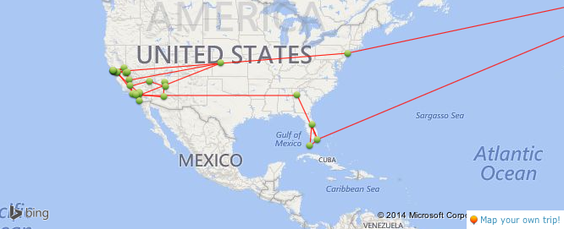 One of my favourites. I was travelling while at camp, after camp and even before camp (planning my future trips). Out of the places I saw, to name a few:
Grand Canyon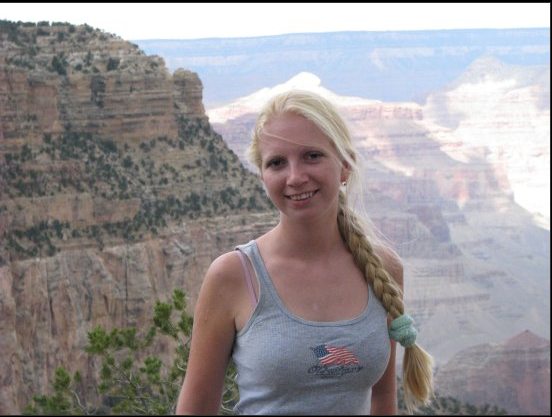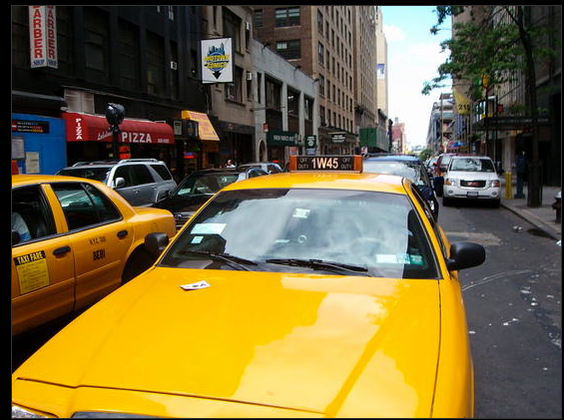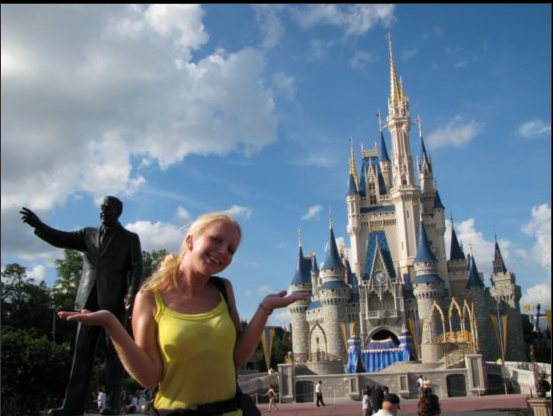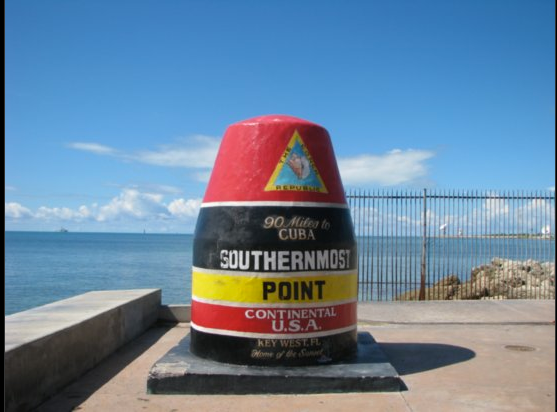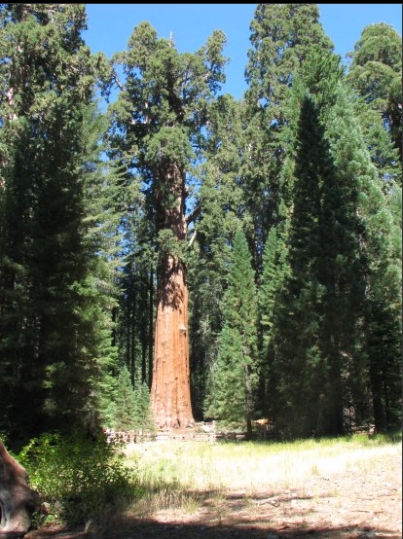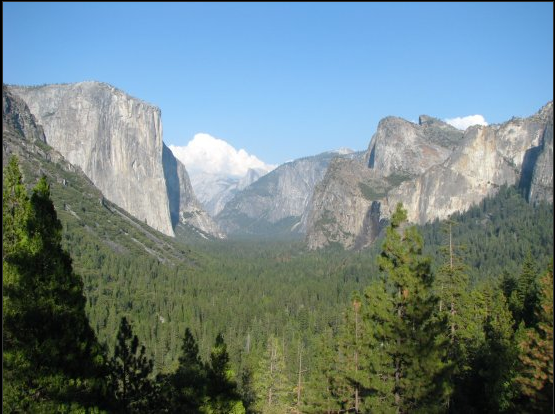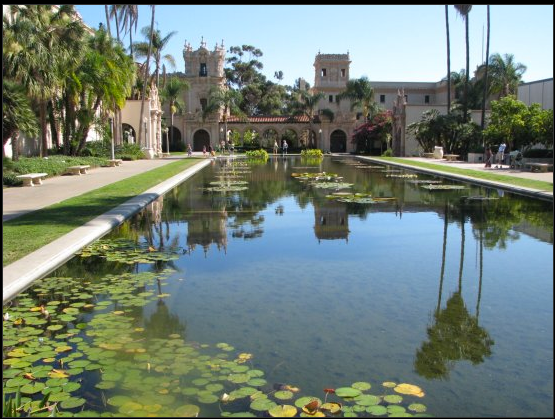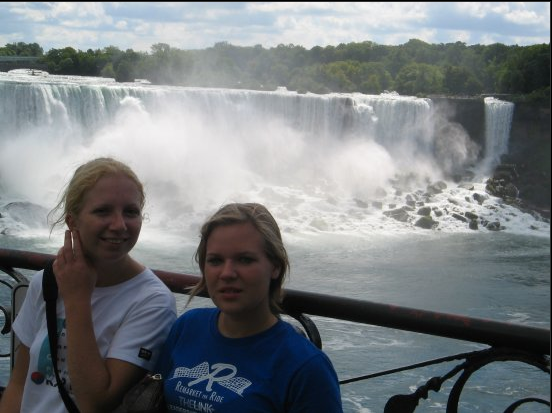 ...and many more.
As one of my American friends put it: I saw more places in the USA than an average American.
And I met wonderful people through my travels. They were not only friends I made at camp, on a couple of occasions I went to visit my campers upon the invitation from their parents! I met other backpackers and drivers who picked me up while I was hitchhiking.
As people at camp were coming from every corner of the globe, I went to visit some of them in those corners. Thank you all for having me! I have also had people visiting me in Poland! 
Through those travels, I learnt that even though we are all so different with our cultures and the way we express ourselves, we share the same feelings.
It is amazing to see people who come from such different backgrounds, overcome the diversities and mentalities and work together – for others. 
Lesson 7 – YOU WILL CHANGE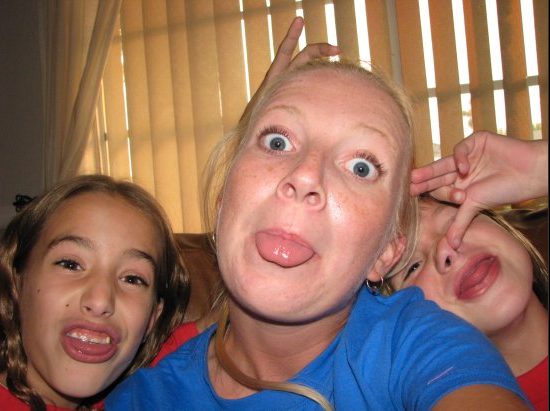 I was not the same Bogna when I came back to Poland after my 3 months in America. Why?
I was braver (Do you think a job interview is intimidating? Imagine playing a guitar song in front of 400 kids!).
I was stronger through my experiences, more independent.  (Organizing a trip to Australia? No problem. )
I gained perspective and put others needs in front of mine. Sometimes I was feeling homesick and had to comfort a child who was missing home more than I did.
I learnt to accept more than before (see lesson 8).
I became a lot more patient. As a counsellor, working with kids – I had to.
I understood that it is not always money that makes the reward (value) of the job. As a camp counsellor I got paid rather little. But the experience was priceless.
I had a funny feeling that everything around me had stayed the same, it was me who changed.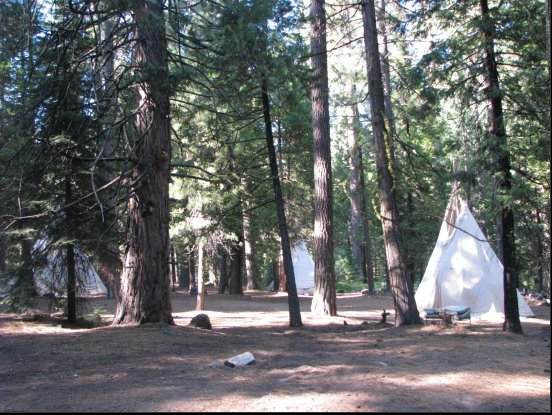 Lesson 8 – LESSON OF ACCEPTANCE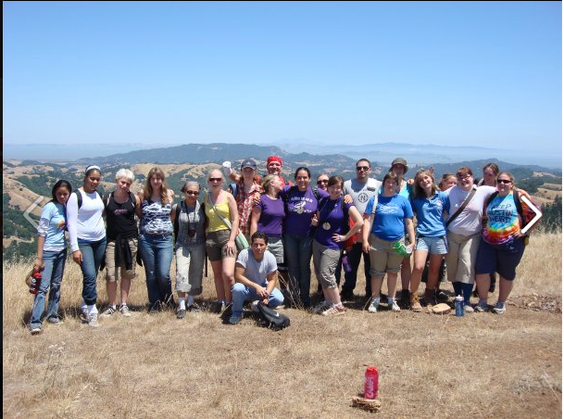 Tolerance – to say the least. I am not only talking about religious and cultural diversity. Poland is a country where homosexuality is still a taboo. People are SCARED of gays, almost as if they were going to rape them in a street or something. I never had a problem with it. But working at camps, particularly a girl scout camp, gave me a good insight at the topic. Yes, several people I worked with were either homo- or even bi-sexual. I am straight. And we were, and still are, friends. I do not think on an everyday basis "my gay friend XY".  No, I think "my friend XY". If you're going to a camp and you've got homophobia, you may get into a bit of a culture shock. Just get on with it. "They" are neither better, nor worse than "us".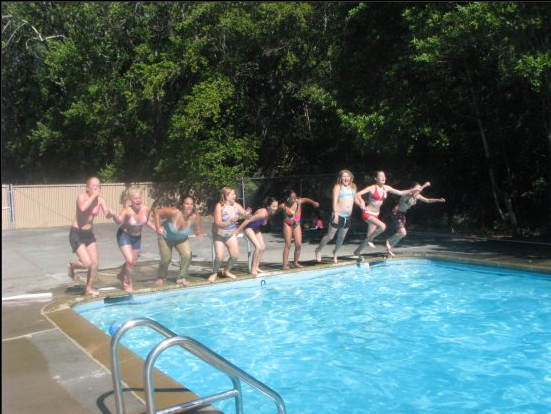 Did I scare you? Or did I make you want to go? If you can, GO FOR IT.
Thank you, Camp America, and my camp friends, for making those 2 summers time of my life.
PS. Want to go but don't know where to begin?
Start with:
www.campamerica.pl (for Poles)
Otherwise there are a few more organisations, such as:
The camps I went to, were:
Camp Bothin and Camp Sugar Pine (sister camps)
Camp Pali Overnight Adventures
Thank you for reading.
Boogie

---
About me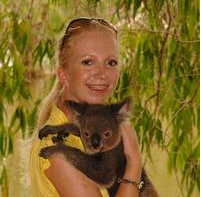 Hello stranger! My name is Bogna, but you can call me Boogie. I come from Poland, but currently I live in London, UK. My current vision is to:
help people discover their stars
be a superconscious photographer
empower women
be a healer of human souls and bodies
travel the World
This website is all about the experiences I encounter and the World I see through my lens. I hope I can inspire you to travel or to go for what you would truly love. Don't forget to like my page on Facebook, follow me on Twitter and Instagram.